FC Barcelona Season 2018-19
Here you can see this season's fixture for FC Barcelona on Camp Nou. We do sell tickets to all below matches in La Liga, The Spanish Cup and Champions Leagues with FC Barcelona. Read more about FC Barcelona here
FC Barcelona was founded by Juan Gamper 1899. Gamper placed an ad in the local newspaper Los Deportes. In the ad he announced that he wanted to start a new football club in Barcelona. However, he did not. As explained on one of Camp Nou's long sides, FC Barcelona is Més que un club, "more than a club."



From 1929 to 1985, FC Barcelona won the league ten times and was one of Spain's most successful clubs, even though it was nowhere near as successful as its arch rival, Real Madrid. When the team won the 1990/91 league, it was the beginning of something huge. Between 1991 and 2017, Barca won the league 14 times and the Champions League five times, whereas, during the same period, Real Madrid won six Champions League, but "only" eight league titles. Spanish (and European) football has two kings.

In addition to the trophies Barça have raked in, the club is known for their great youth facilities where new talents are nurtured every year. Many stars have been trained at FC Barcelona's academy and in 2013 something historic happened. It was the first time ever that a world-class team's starting eleven was made entirely of players who were brought up in the club. The eleven were Valdés, Montoya, Puyol, Piqué, Jordi Alba, Sergio Busquets, Xavi, Fábregas, Pedro, Messi, and Iniesta. A superstar in every position.

Since winning the Liga in 2018, Barcelona is looking to conquer Europe once more in the 2018/19 season.

FC Barcelona is also the world's most successful sport club, being represented by world-class teams in basketball, handball and futsal, in addition to football.
Transfer news
FC Barcelona has bought these players in the latest transfer window: Neymar.
FC Barcelona has sold these players in the last transfer window: David Villa, Eric Abidal and Thiago Alcantara.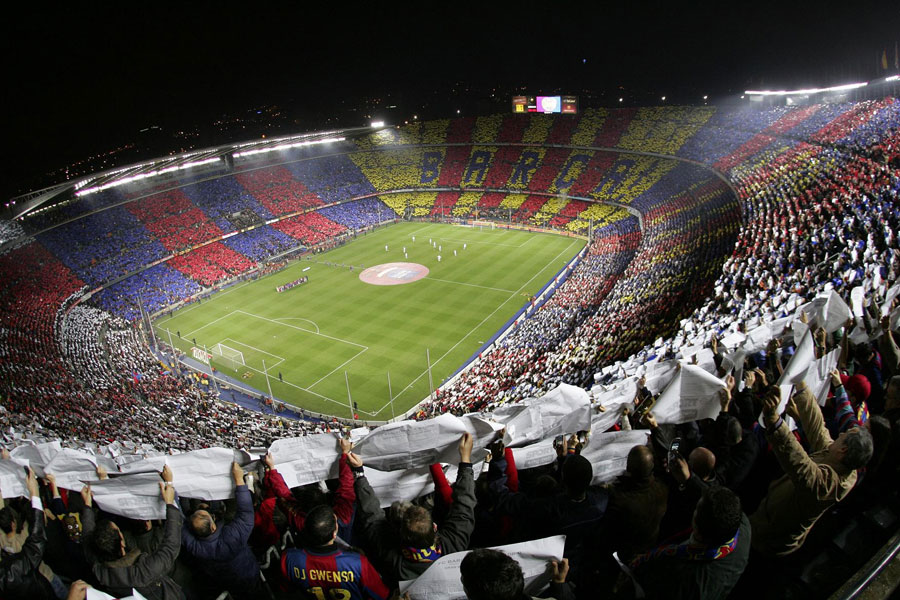 Venue info
Camp Nou
Capacity
98.000
Address
Camp Nou, Avinguda Aristides
Maillol, Barcelona


View map
Metro
Les Corts, Collblanc
Buslines
7, 15, 43, 67, 68, 74, 75, L12, L50, L60